Diamond Dotted Presspaper
In accordance with GB/T5591.3.1-2008
Description: DDP is produced by coating modified epoxy-resin in diamond-dotted patterns on both sides of electrical insulating paper (Kraft paper is derived from Nine Dragons Paper (Holdings) Ltd., the biggest manufacturer of insulating paper who sets the standard of China Kraft Papers). DDP is a kind of inertia material, dry and no conglutination at normal temperature (below 30'C). DDP Insulation paper will make the electric conductor felt up as a hard unit under the high temperature by its internal latency substance. Diamond dotted paper is also referred as diamond pattern paper, diamond pattern resin coated paper, epoxy adhesive diamond paper, diamond coated Kraft paper, diamond dotted insulating paper, varnished paper, etc.
Advantage: In the process of coil desiccation, the coated epoxy-resin would be melted in a certain temperature and become adhesive. With the temperature increased, the melted resin would cure to C-stage, and firmly adhere each adjoining layer of the coil, thus forming a winding section. If a short circuit occurs in the coil, the resin bond strength would sufficiently prevent the displacement of each winding layer, which ensures the long-term mechanical and physical properties of the insulation structure. As the resin coating distributes in a diamond-dotted pattern, little quantity of the resin would soak into the insulating paper during the melting and curing process, which ensures the elimination of air content in the insulating paper and guarantees the soakage of oil, minimizing the damages of corona and partial discharge. It has excellent electrical, mechanical, and impregnating properties. It also has excellent tensile strength, reliable heat resistance and good voltage characteristic.
Applications: it is suitable for turn-to-turn insulation of coil wires on oil-immersed power transformers and suitable for layer insulation of coils on distribution transformers.
Features:
• Thermal class: B (130℃)
• Thickness: 0.08-0.50mm
• Standard width: 1000mm (or according to customers' requirements)
• Color: red, natural, and yellow
• Form: roll, sheet, and strip
• Superiority: Reasonable prices, high quality, prompt delivery, and excellent service.
﹥﹥2 Curing conduction stock
2.1 Curing: 90℃±2 ℃/3h firstly , then130℃±5℃/6h, or according customer needs
2.2 Storage: ≤40℃, dry, clean in warehouse. Avoid fire, heat and sunlight.
2.3 Storage life: 12 months. Still effective if qualified in retest after 12 months.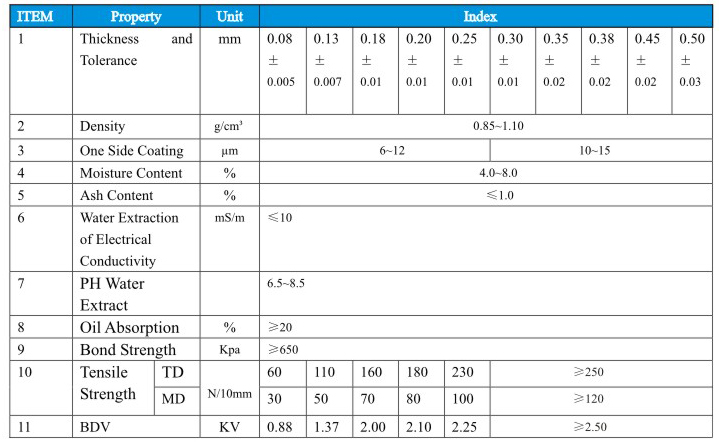 Diamond dotted paper(DDP) is made of insulating paper with diamond-shape epoxy resin dotted on both sides. The epoxy used in D.D.P contains a kind of incubative hardener material. It is a dry and crisp material at normal temperature.
thickness

g/㎡

DDP

0.05

50±15

0.8

DDP

0.08

83±15

1.1

DDP

0.1

105±15

1.2

DDP

0.13

135±15

1.5

DDP

0.15

153±15

1.7

DDP

0.18

182±15

1.9

DDP

0.2

205±15

2.1

DDP

0.25

258±15

2.4

DDP

0.3

310±15

2.6

DDP

0.4

410±15

3.1

DDP

0.5

510±15

3.3
We are excellent Chinese manufacturers. Our products, such as
DDP-Orange-Color-Resin
,polyester overlaminating film,nanya polyester film,crepe paper white,crepe paper for sale, are of excellent quality and affordable. Looking forward to your inquiry。
Related Products
double-side Diamond Dotted insulation paper
Diamond-Dotted-Nomex-Paper