6051 Polyimide Film
Description: 6051-Polyimide film is synthesized by polymerizing PMDA and ODA in strong polar solvents through the process of forming film and imine treatment at high temperature. It is Class H (180℃) insulating material. This product has excellent physical, chemical, and electrical properties, atomic radiation resistant, solvent resistant, low & high temperature resistant. It performs successfully in the wide range of temperature as low as-452℉ (-269℃) and as high as +500℉ (+260℃). Because of its unique excellent properties, it is the ideal choice among many applications.
Application: This product can be used in coil insulation, flexible printed circuits and as insulating materials of flat electric cables, electromagnetic wires, transformers, capacitor and motors.
Features:
• Thermal class: H (180℃)
• Thickness: 1-4mil
• Standard width: 1000mm (or according to customers' requirements)
• Color: brown
• Form: roll, sheet, and strip
• Superiority: Reasonable prices, high quality, prompt delivery, and excellent service.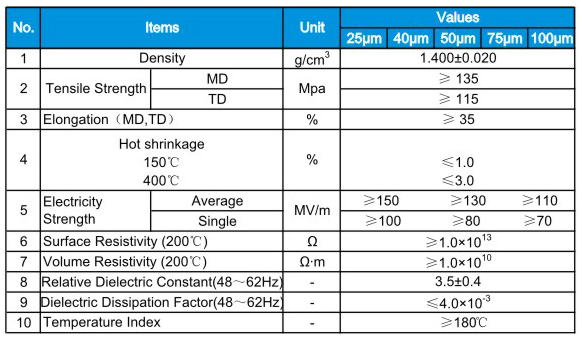 We are excellent Chinese manufacturers. Our products, such as
6051 Polyimide Film
,polyester film black,polyimide resin suppliers,polyimide nylon,polyimide glue, are of excellent quality and affordable. Looking forward to your inquiry。
Related Products
6520 Fish paper pet film lamination insulation paper used for motor
High temperature 6211PI tape adhesive insulation polyimide tape
NMN 40um Flexible Laminates