AMA Flexible Laminates
Polyester Film with Aramid paper
In accordance with GB/T5591.3.1-2008 and IEC626-2
Description: The AMA Flexible Laminate is a three-layer flexible composite material, produced by using F-class adhesive(heat-resistant epoxy resin) to adhere the polyester film( 6020 transparent polyester film or 6021 milky polyester film) (Mylar) with hot rolling Aramid paper (A) on both sides. The structure is Aramid paper+(resin)+Mylar+(resin)+Aramid paper.
Advantages: It has excellent electrical, mechanical, and superior heat-resistant properties. It also has excellent tensile strength, high edge tear resistance and good voltage characteristic. The performance is totally according with the standard of NMN GB/T5591.3.1-2008, and it has the very similar property as AMA. It's a perfect substitute of NMN.
Applications: The AMA is suitable for slot, liner, phase, and turn-to-turn insulation in F-class electrical motors. It can be used as interlayer insulation in transformers and other electrical appliances.
Features:
• Thermal class: F(155℃)
• Thickness: 0.13-0.47mm
• Standard width: 1000mm (or according to customers' requirements)
• Color: orange, green, blue , and according to customers' requirements
• Form: roll, sheet, and strip
• Adhesive property: 180℃±2℃, 10 minutes no delamination, blister, or adhesive flow.
• Superiority: competitive price, high quality, prompt delivery, and excellent service.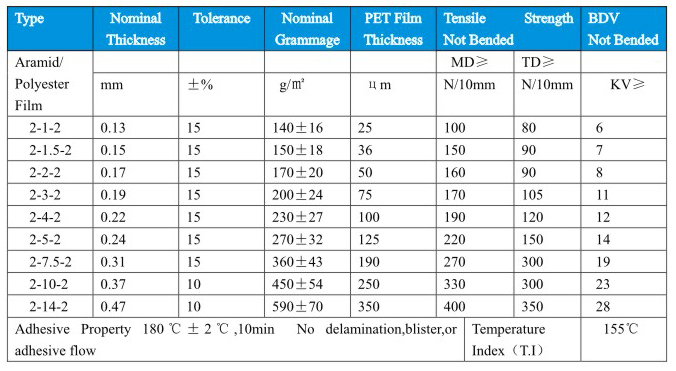 We are excellent Chinese manufacturers. Our products, such as
AMA Flexible Laminates
,polyester film lamination machine,polyester film manufacturers in india,polyimide insulation,polyimide adhesive, are of excellent quality and affordable. Looking forward to your inquiry。
Related Products
Mylar film Haotai Cheap price High Temperature Electrical Insulation Material AHA AKA
6520 Fish paper pet film lamination insulation paper used for motor